Claim Your Share of $576 Million in 2017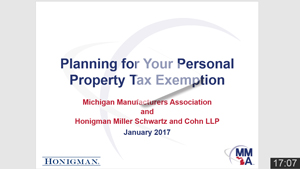 Hear from MMA's Mike Johnston and Mark Hilpert from Honigman, Miller, Schwartz and Cohn, LLP as they explain the steps for securing your PPT savings in this free webinar.
Legislation passed to extend filing deadline of
MMA-led PPT tax cut in 2017 to May 31.
File for your share of a $576 million annual tax cut — the result of MMA's hard-fought elimination of the Personal Property Tax (PPT) on manufacturing equipment, a primary barrier to competitiveness for many employers.
This tax cut requires manufacturers to take proactive steps and meet very specific deadlines (see the sidebar on the left or see Deadlines for details) to claim the exemption. The process includes paying a small assessment, the Essential Services Assessment, to the State to help reimburse local units for the elimination of the PPT and which must be paid by August 15.
This tax cut does not occur automatically,
you must act before May 31, 2017.

The PPT Savings Tool Kit — Understanding the Exemption Process
This Tool Kit provides you the information and resources to ensure your company takes the appropriate steps to receive this substantial savings. Reference the tabs along the top of the page to access different parts of the Tool Kit. Follow the instructions and it will yield substantial property tax savings for your company.